Back to Insights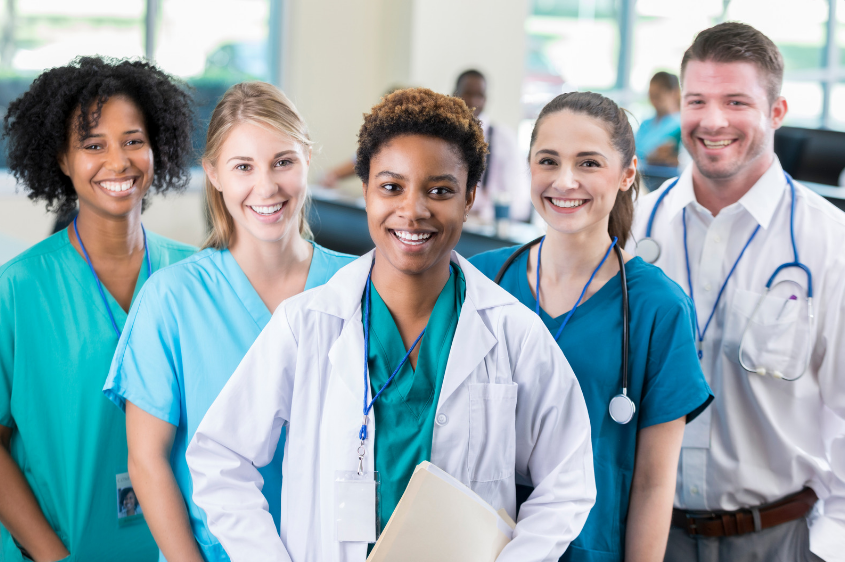 A career in healthcare - Key skills
​The healthcare industry today is made up of various professions that not only include classical fields such as medicine, nursing and pharmacy, but also relatively newer fields such as bionic prosthetics and medical imaging, and everything in between. Healthcare professionals working in these varied fields often meet those working in other specialised fields and unfamiliar professional contexts. For example, a staff nurse at a busy emergency ward works as part of a multi-speciality team and must routinely liaise with nurses, doctors and others within the context of her professional practice. However, the staff nurse may also have to deal with other professionals, such as paramedics, police, lawyers and patients' family on a regular basis. The skills required to cope in such a work environment are expected of all healthcare professionals in varying degrees. Therefore, besides honing the skills required to perform the tasks within their own professional contexts, healthcare professionals need to possess the following set of skills to help them survive and excel in the healthcare industry.
​
DEVELOP A PLAN FOR ONGOING CONTINUOUS EDUCATION
Healthcare professionals face a constant need to keep themselves informed about the current advances in their respective fields. Without either the willingness or a plan to engage in ongoing continuous education, it is hard to survive in a competitive healthcare industry. Lucrative and challenging opportunities in the workplace are offered to those who demonstrate a habit of educating themselves according to the evolving demands of their respective fields. From the perspective of seeking successful recruitment as a healthcare professional, it is vital to show evidence of a plan to undertake continuous education in one's own field.
​
IMPROVE AND BUILD ON INTERPERSONAL SKILLS
Interpersonal skills play a key role in the functioning of healthcare professionals. These skills include verbal and non-verbal communication, listening and reporting, oral or computer-aided presentation, heightened confidentiality, and other such soft skills. In most situations, healthcare professionals will need to exercise these skills not only in the context of a patient or a client, but among their colleagues who may or may not be associated with the same professional context. Effective interpersonal skills are highly valued when healthcare professionals happen to be the first point of contact in a medical setting or as the face of a firm in a corporate setting.
​
ALWAYS GIVE ATTENTION TO DETAIL
In the healthcare industry, roles and responsibilities are a part of a web of tasks within a bigger process. There, professionals work under the impression that the quality and precision of work handed to them is of the highest standards even as they strive to meet the highest standards themselves. A small error at any point will compromise the efforts and resources spent on the bigger process by all others involved. Furthermore, given the nature of the industry, consequences may be life-altering and incur heavy financial losses. Therefore, healthcare professionals must always give due attention to every detail.
​
BUILD AN ATTITUDE OF SHOWING EMPATHY
The healthcare industry functions in such domains where notions of investigation, examination, suspicion, and ambiguity are the norm of particular contexts of healthcare practice. As a natural consequence, there will be grievances, complaints, distrust, pain, agitation, apathy and confusion among the various parties involved. The calm and composed demeanour of healthcare professionals is the expected response to act as a buffer in such situations. This response is achieved by developing an attitude of empathy towards patients, colleagues, or clients. It is also helpful to develop a skilful response of empathy to make informed decisions when working under stress and pressure to meet targets. A calm, considerate and empathetic approach to problem-solving is valued as an efficient professional approach in high-risk situations rather than a rigid adherence to formal procedures and general protocol.
​
DEMONSTRATE FLEXIBILITY IN ACCEPTING AND DELEGATING TASKS
In most healthcare professions, there is a professional culture of working as teams or groups. Overall success and/or performance is measured and valued at the level of both the individual and their respective team. A demonstrable level of flexibility in sharing tasks among the individual members of a team is reflective of the team's performance and vice versa. Flexibility could also be demonstrated by a willingness to accept extra roles and/or responsibilities during crucial periods at a firm or team.
​
FACILITATE AND MODEL AN ORGANIC WORK ETHIC
Transparent and unhindered flow of information is the driving force of any team functioning at their highest professional standards. Making an intentional effort to maintain effective communication among their relevant professional links is extremely important for a healthcare professional. A healthcare professional must view their team or company as an organism that always requires constant information-sharing among its organs. Effective communication skills and an understanding of confidentiality will improve an organic work ethic among healthcare professionals.